No puppies are currently available.
We took a break for spring of 2020. Our next litter will be late this year or early next year. It's never too early to get on our waiting list. Email us are gougefamilylabradoodles@gmail.com.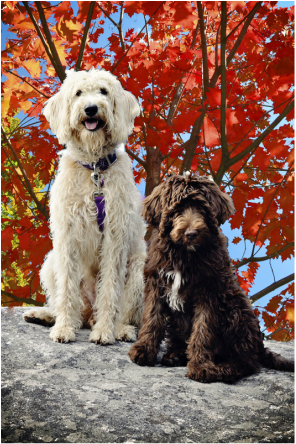 After years of searching for the right family dog, we are excited to share our answer with you. We love our Labradoodles, and understand why this combination has become so popular. Non-shedding, non-smelling, usually hypoallergenic, mid-sized, with calm friendly temperament, Labradoodles are dogs anyone can love.

Our mission is to breed family dogs, so others can enjoy their best friends as much as we do ours. As our puppies grow up nearby and across America we are very happy to hear they exhibit the good traits we love so much in their parents.

What exactly is a Labradoodle? It can be confusing. An F1 Labradoodle is half Standard Poodle and half Labrador Retriever. Our dogs are F1B Labradoodles, the product of an F1 bred with a full Poodle. Thus, our dogs are 3/4 Poodle and 1/4 Lab. Our puppies are multigenerational, the product of two F1B parents. They also are 3/4 Poodle and 1/4 Lab, but are more likely to carry the traits and temperament of their parents than the F1B.

What are those traits? Our dogs are calm, people-loving, obedient, playful, with lots of wavy non-shedding hair. They don't have that "dog smell". They interact well with children and other animals, and weigh between 40 and 60 pounds. They do let us know when visitors arrive, but don't generally bark too much without a reason. A lot of people ask us about mini-doodles, but all our dogs are full size.
---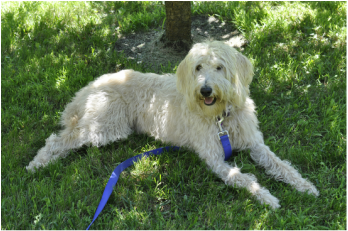 Zoe, taking a break. She is our original Labradoodle, and has produced several beautiful litters of puppies.

Zoe had her final litter in 2017. She still loves to help Bree with her pups.
---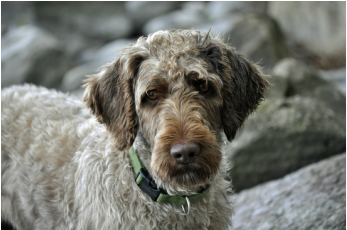 Marley, with us on a trip to the lake. He is very friendly and gentle, and many families hope their puppy will turn out just like him.
---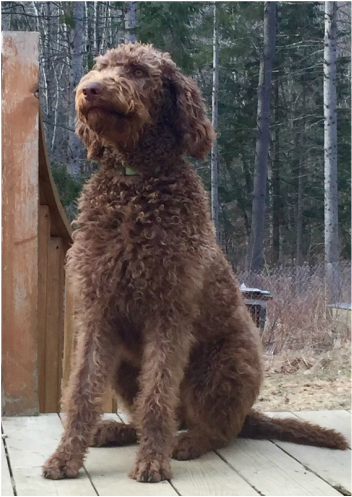 Our latest addition, Bree, is bigger and curlier than the other dogs. She had her first litter in spring of 2017, and is the only female we are breeding at this time.
---